Skip to product information
src="files/SimplyGoodBundle.png" width="100%" height="100%" alt="" >

src="files/15_5cbcbf7e-1fa8-48bc-a654-72fe9f4737cd.png" width="100%" height="100%" alt="" >

src="files/SimplyGoodBundle_33294fac-dcb1-4eba-b20d-0b40d745482b.png" width="100%" height="100%" alt="" >

src="files/SimplyGoodBundle_2.png" width="100%" height="100%" alt="" >

src="files/2copie_c0ddd0cb-66fe-4988-b6e1-8f1560c60cd8.png" width="100%" height="100%" alt="" >

src="files/platformimages_7e3805c5-e89e-4cda-b988-48073a0b82a2.png" width="100%" height="100%" alt="" >

src="files/3_06dd683d-1fbf-4239-acd2-287c892717b9.png" width="100%" height="100%" alt="" >

src="files/ir_cloth_1_a1698f14-f3ee-4be3-901d-cd549bacbf39.png" width="100%" height="100%" alt="" >

src="files/sanitisersedited_b215fa00-0c48-496a-8e32-0983a5270fcd.png" width="100%" height="100%" alt="" >

src="files/ir_cloth.png" width="100%" height="100%" alt="" >
Regular price
$111.00 SGD
Regular price
$174.63 SGD
Sale price
$111.00 SGD
Unit price
per
Sale
Sold out
---
FREE SHIPPING on orders over $99
View full details
Overview

SimplyGood Bundle: Limited Time Offer from now till 12 November 23H59, Save $63

Save more when you buy them in bulk! Shop SimplyGood's cleaning and personal care products that are safer and better for your home, and our planet. Choose SimplyGood's products - all-natural and eco friendly solutions at an ultra affordable price. This bundle consists of of a mixture of our Food Grade Sanitizer, All-Natural Insect Repellents, Eco Cleaning Cloth, and Cleaning Refills:

2x 1L Food Grade Sanitizer Refill
3x 50ml Food Grade Sanitizer Spray
3x 50ml Insect Repellent
1x Complete Home Cleaning Kit
2 x Multi Purpose Tablet Refill*

2 x Bathroom Tablet Refill*
2 x Window & Glass Tablet Refill*
2 x Hand Soap Tablet Refill
2 x Cleaning Cloth (Set of 3)

*Our refills does not come with a bottle.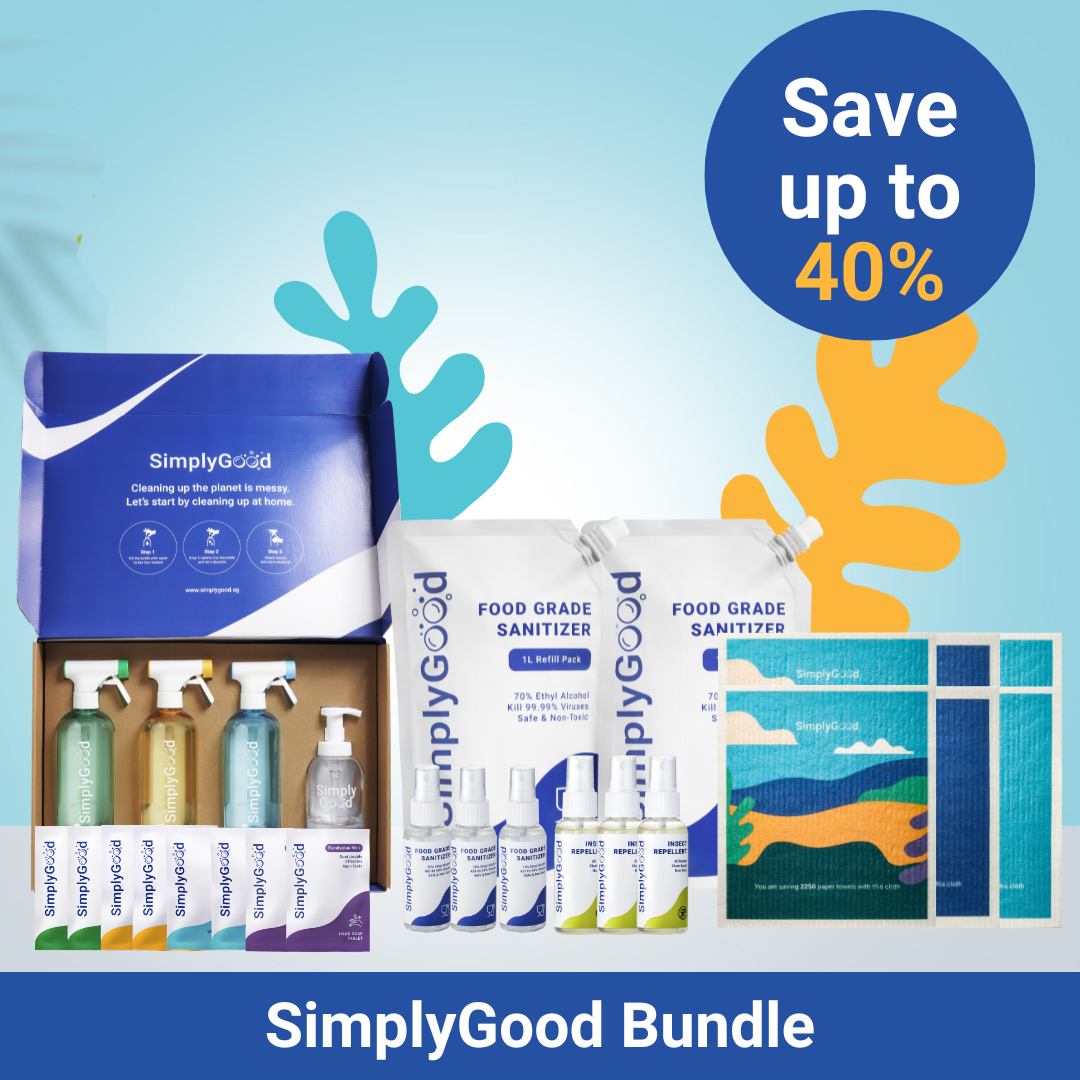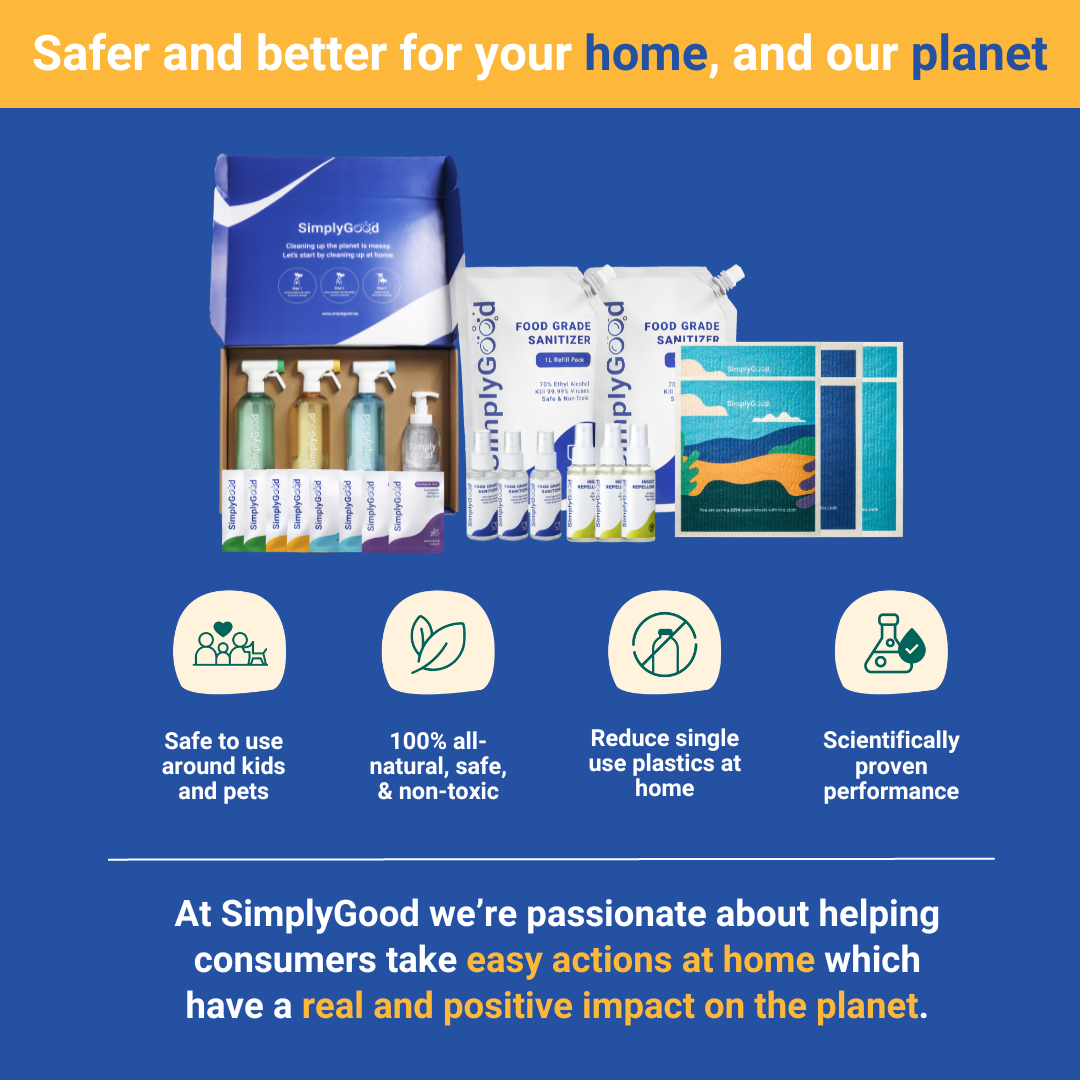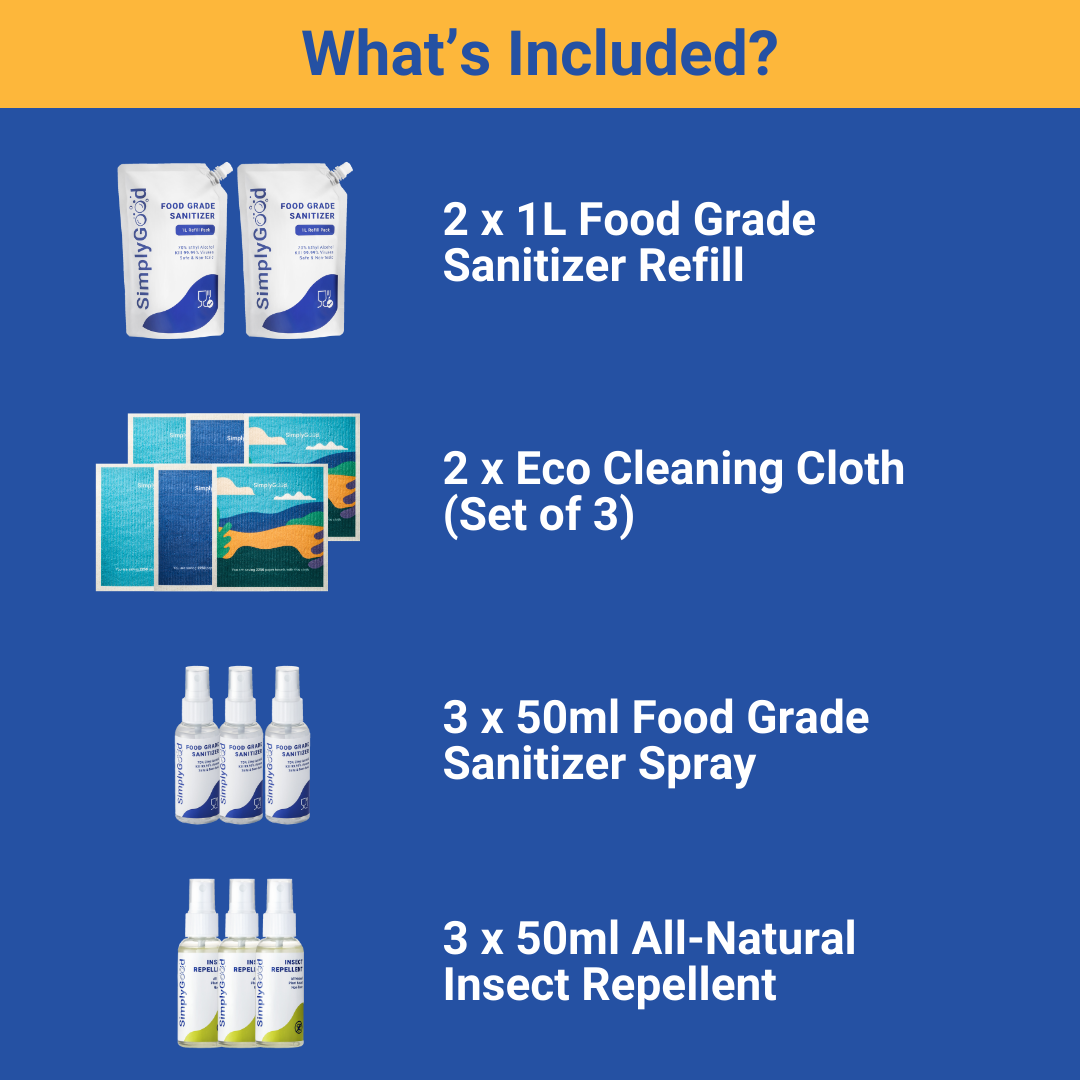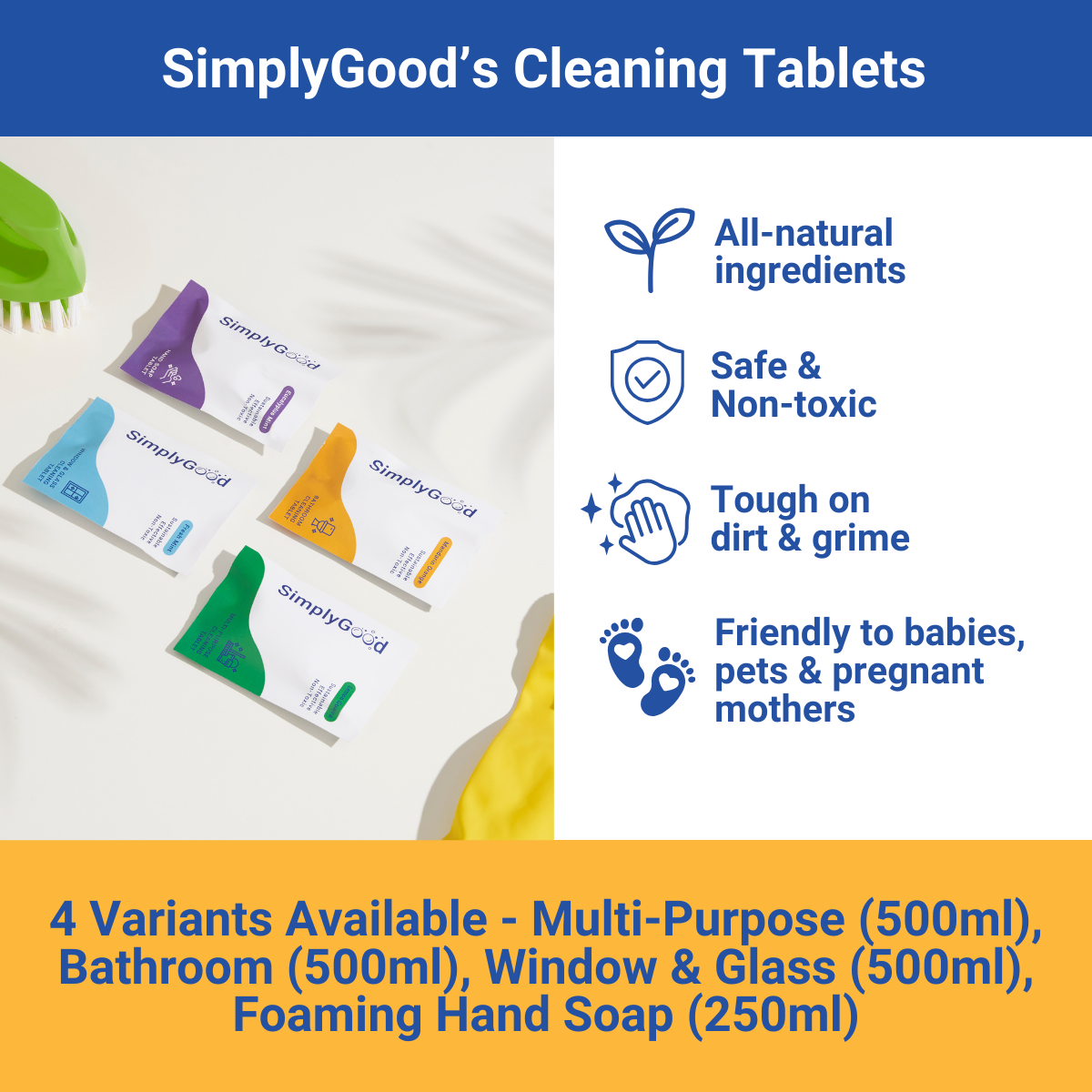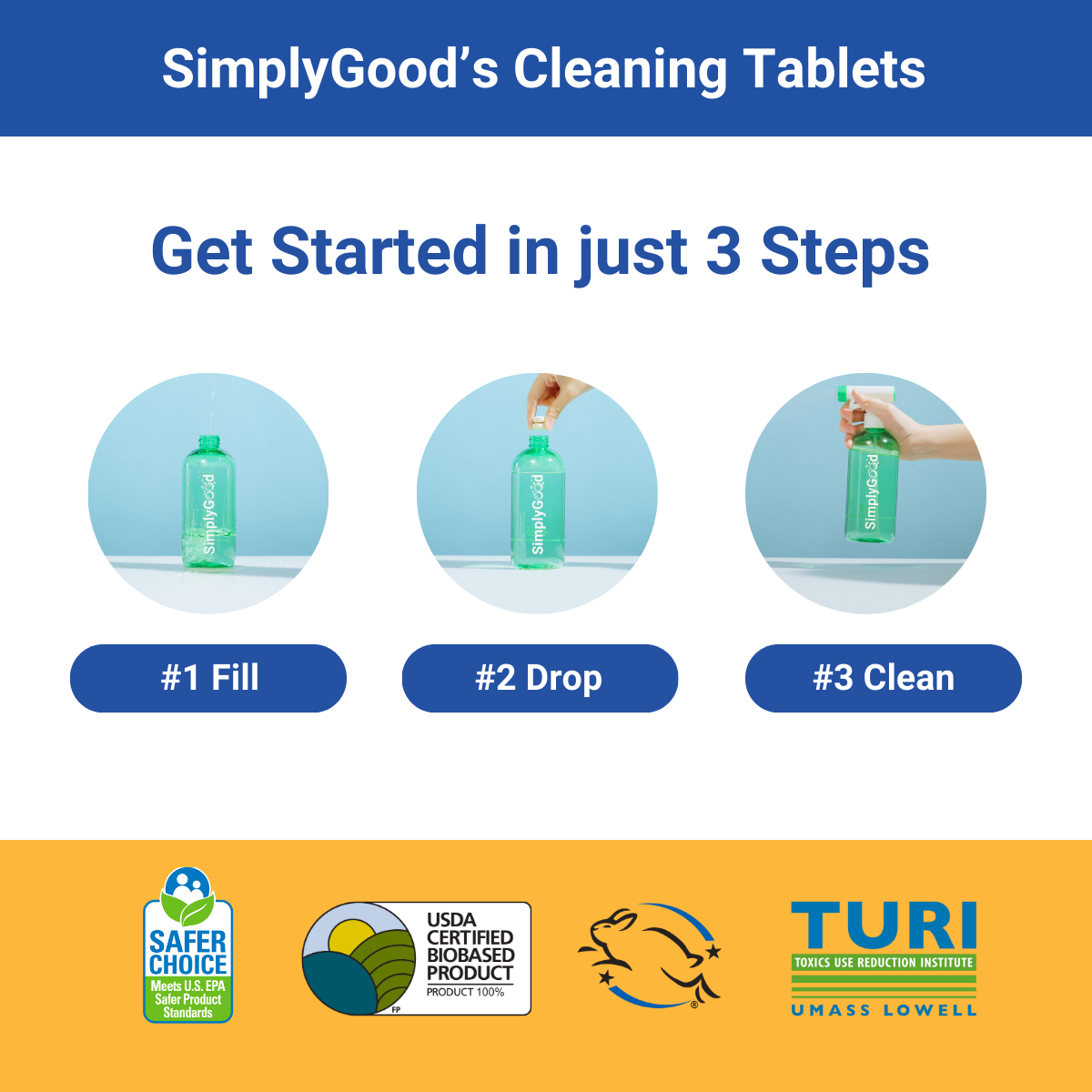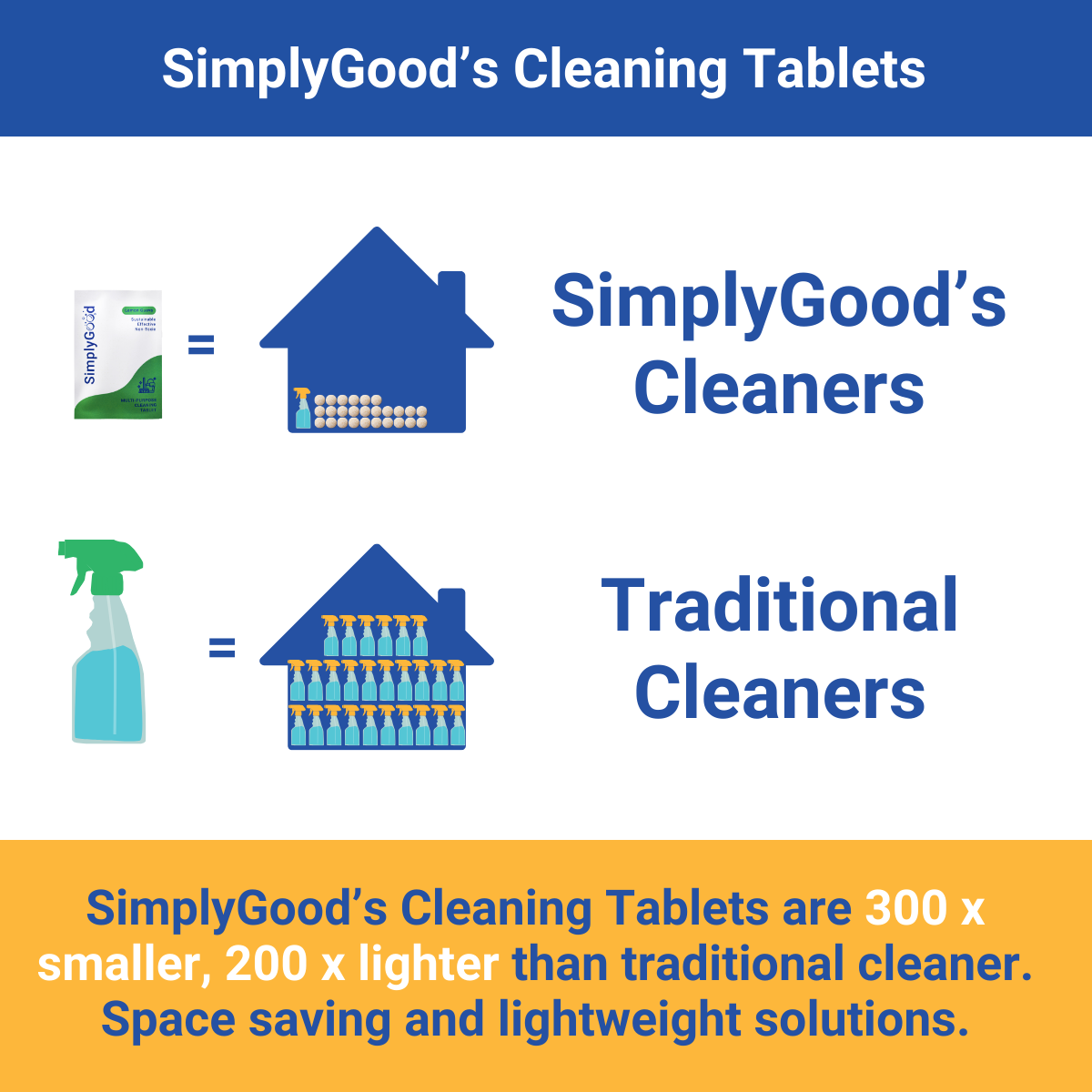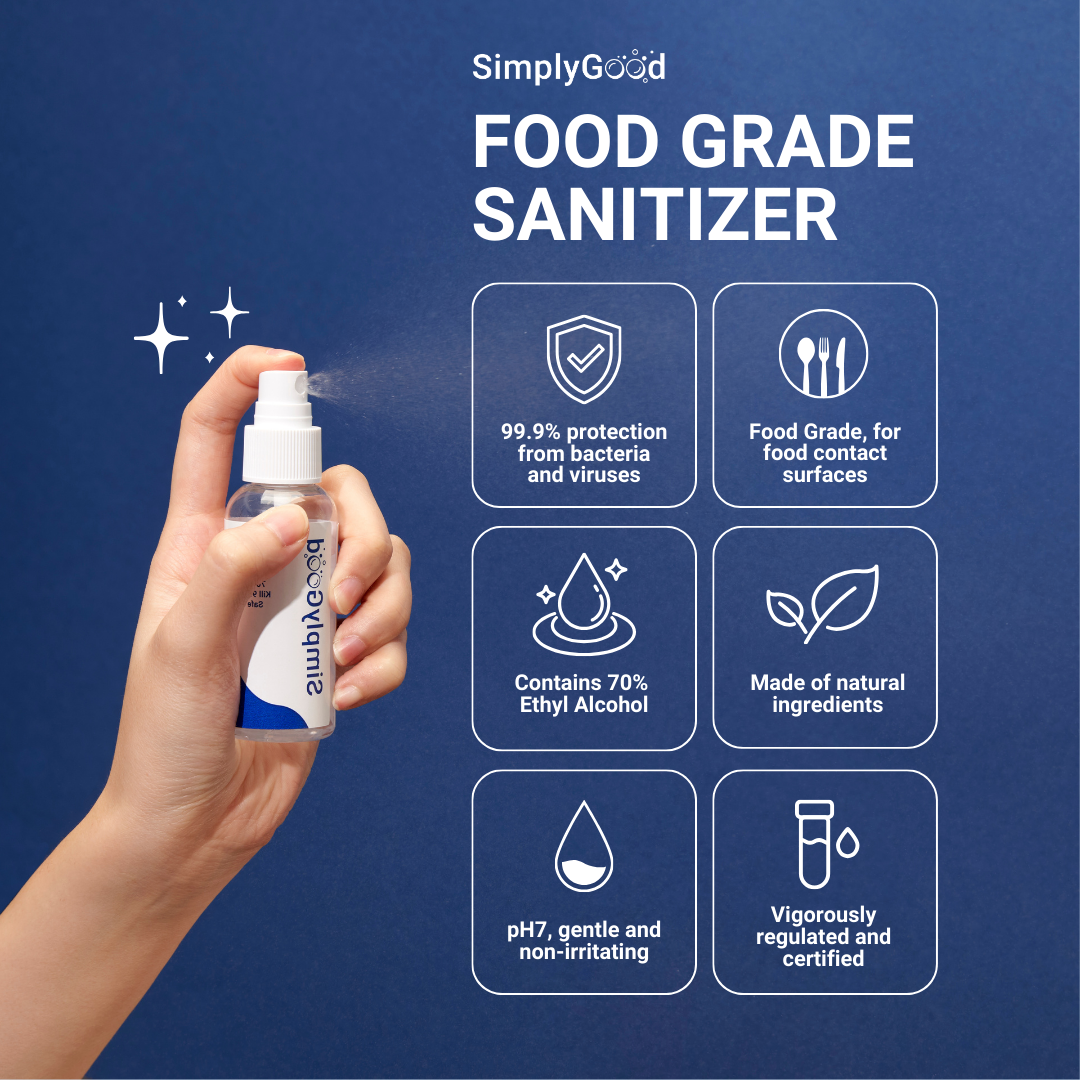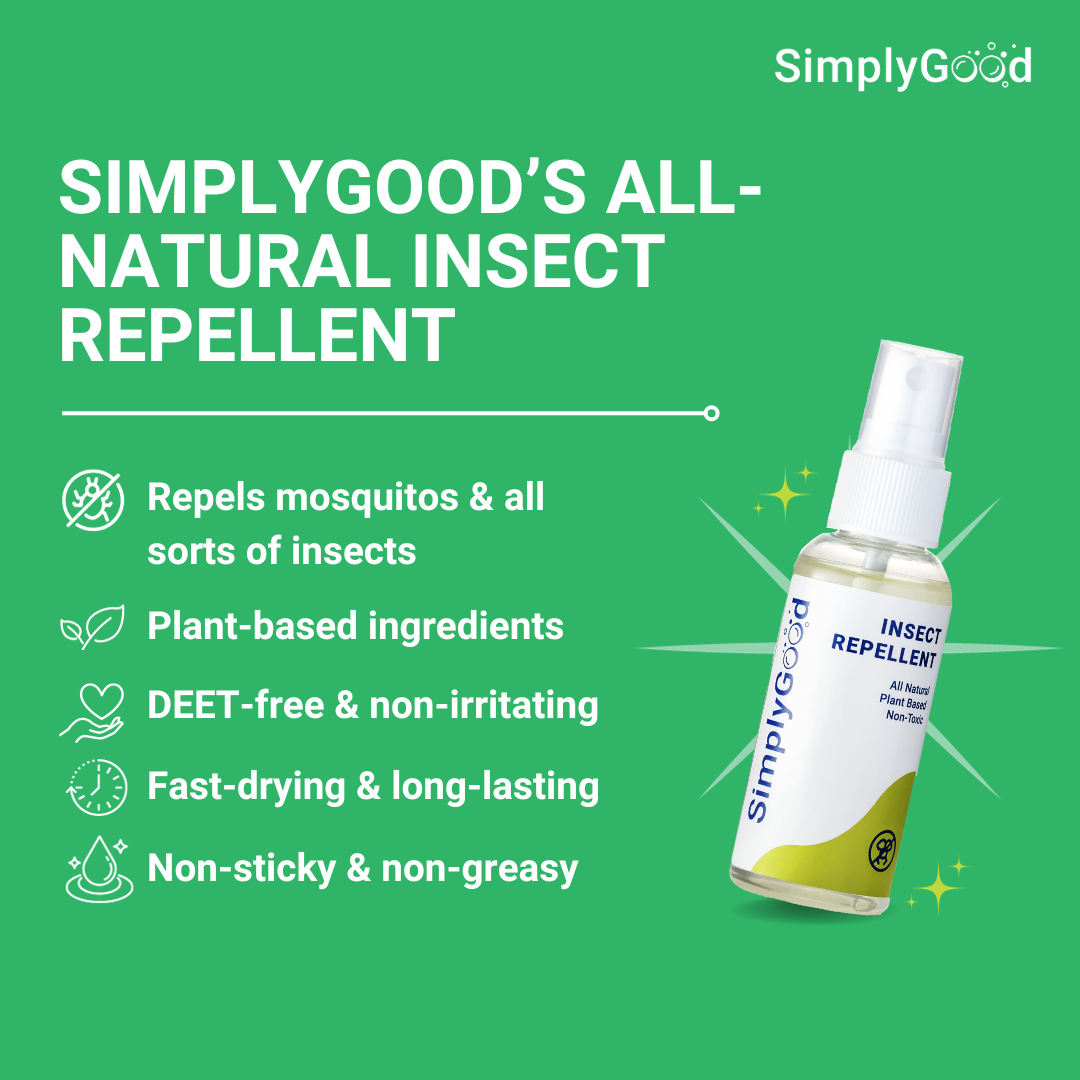 Enjoy up to 40% OFF with SimplyGood's Bundles.
All-Natural Goodness
Created with all-natural and plant based ingredients. Our products are USDA Bio Preferred, EPA Safer Choice, and Leaping Bunny Certified.

High Performance
High performance cleaners that have been tested against multiple traditional cleaners. Equally strong or high results than chemical cleaners.

Safe, and Non-Toxic
No Ammonia, Chlorine, EDTA, and Parabens added. Safe, and non-toxic solutions that are safe to use around kids and pets.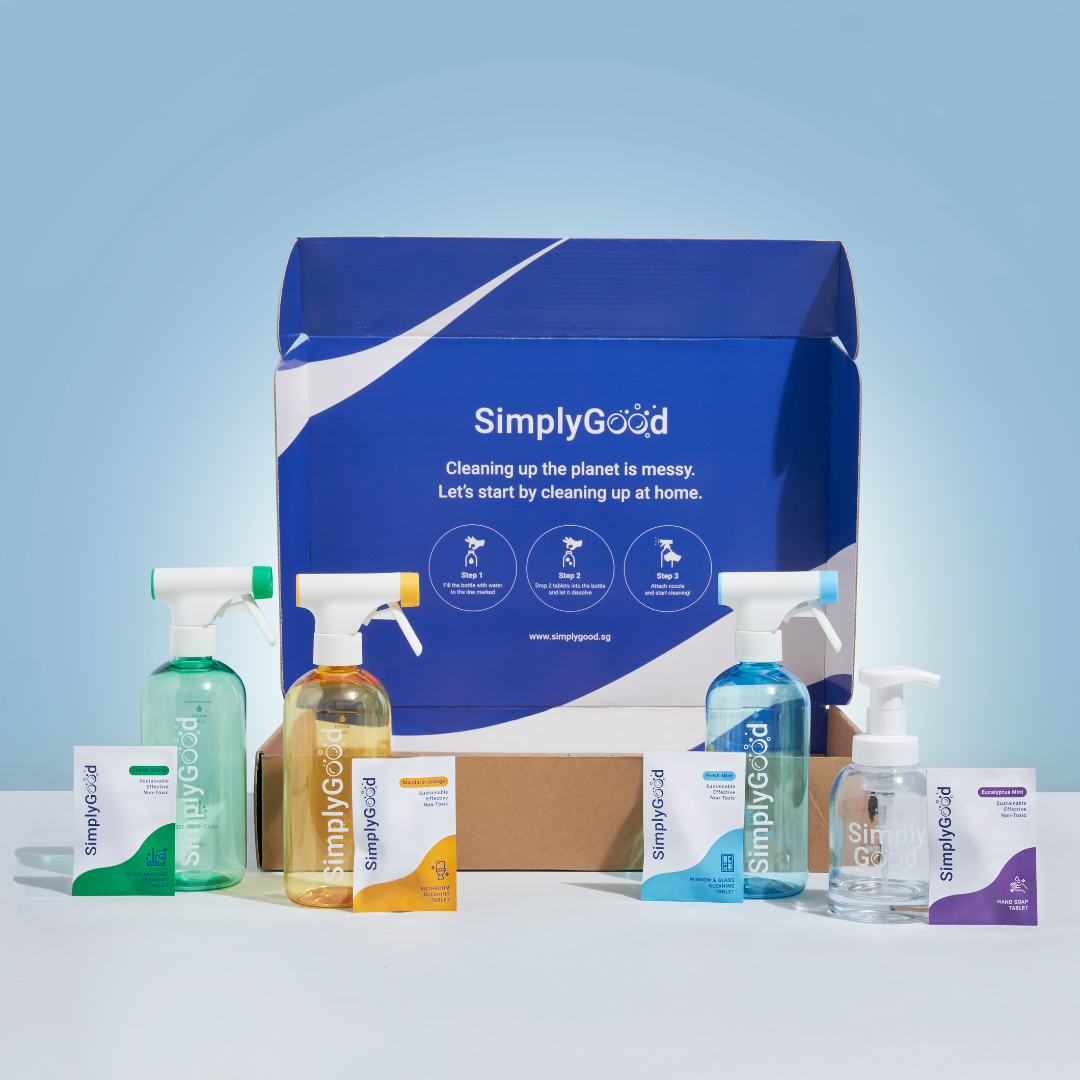 SimplyGood's Cleaning Tablets
Reduce single use plastic bottles with SimplyGood's Refills Tablets
Made with All-Natural Ingredients
Save space with our tablets that are 300x lighter & 200x smaller
4 variants - Multi Purpose, Bathroom, Window & Glass, and Hand Soap.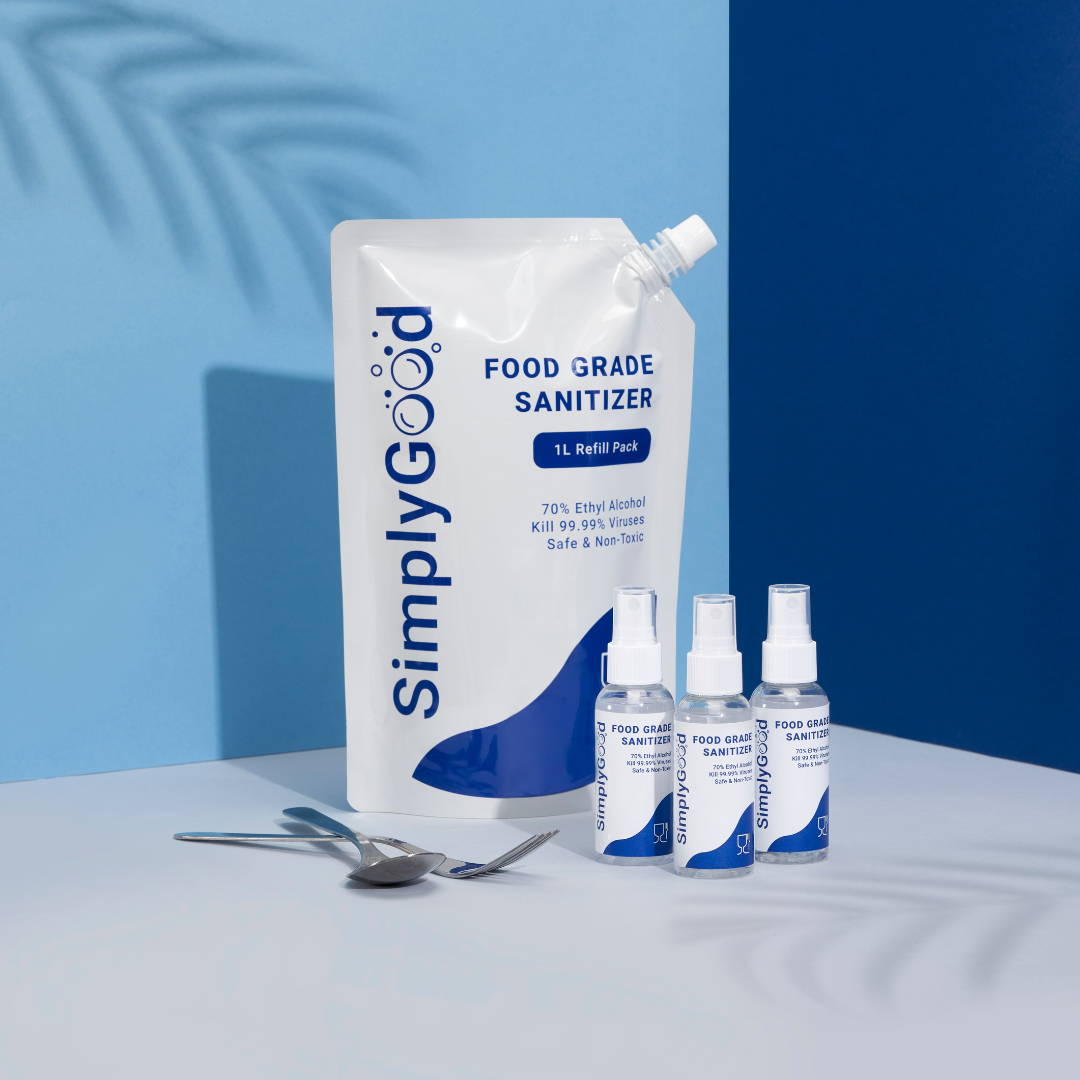 SimplyGood's Food Grade Sanitizer
Safe to use on general surfaces, and Food-Contact surfaces (e.g. utensils)
Kills 99.99% of bacteria and viruses
No sulphates, chlorines EDTA and parabens added
Reduce plastics with our 1L and 5L refills
All of our Food Grade Sanitizers are produced in food grade compliant facilities.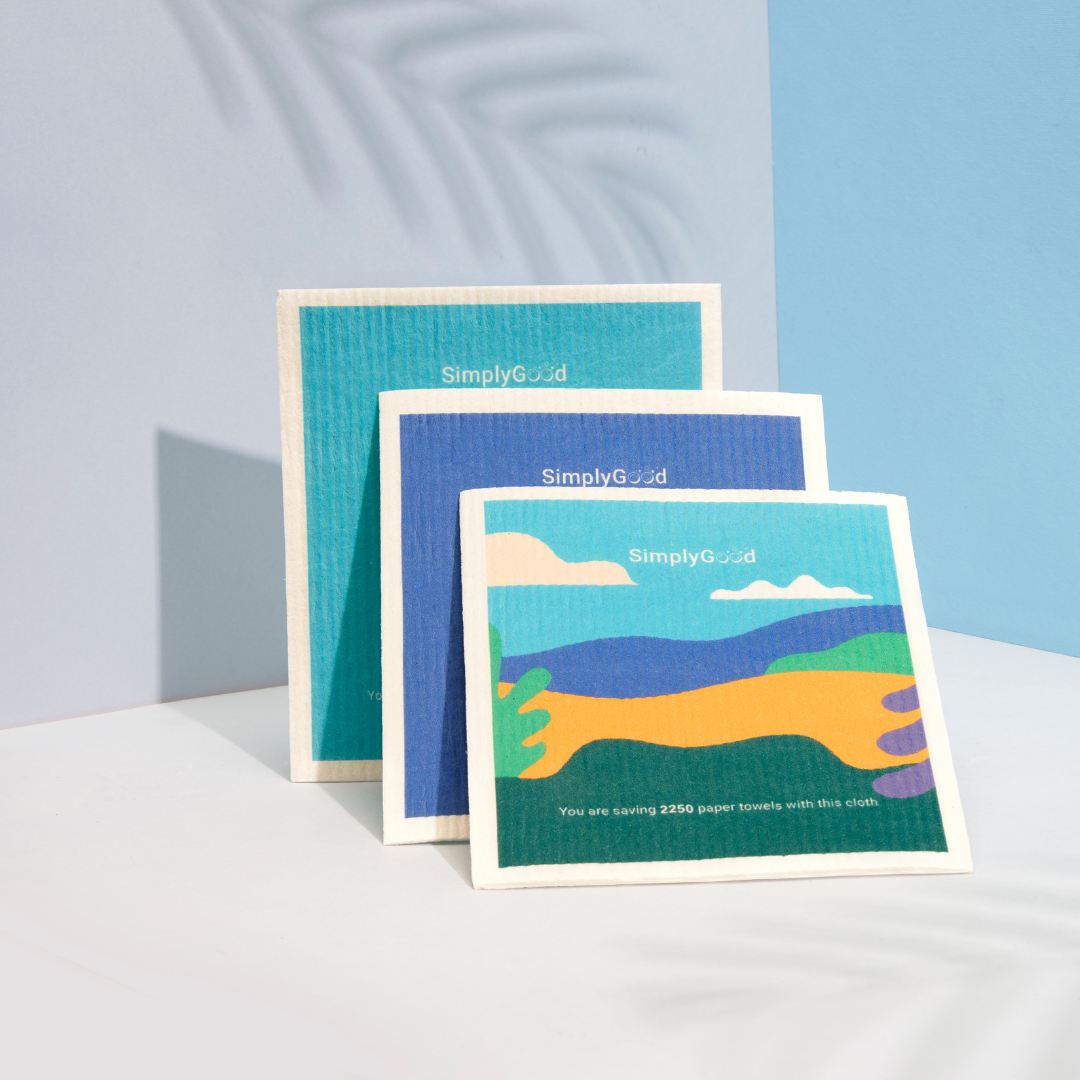 SimplyGood's Eco Cleaning Cloth
100% plant based, eco-friendly and affordable alternative
FSC certified 70% cellulose, 30% cotton
1 SimplyGood's Eco Cleaning Cloth = 30 rolls of paper towels (2250 sheets of paper towels).
Incredibly soft, ultra absorbent and durable
Machine Washable - Easy to sanitise and clean, dish washer safe
Quick dry to prevent breeding of bacteria
Loyalty Rewards

Enjoy rewards when you purchase or refer friends.

Find out more