This article was originally adapted from Mothership.
S'porean youths receive funding from OCBC to produce cleaning tablets to reduce plastic waste
The bank will stop calling for applications for the environment fund from this year but will continue to explore ways to address climate change issues.
Sumita Thiagarajan | 

 June 07, 2020, 03:45 PM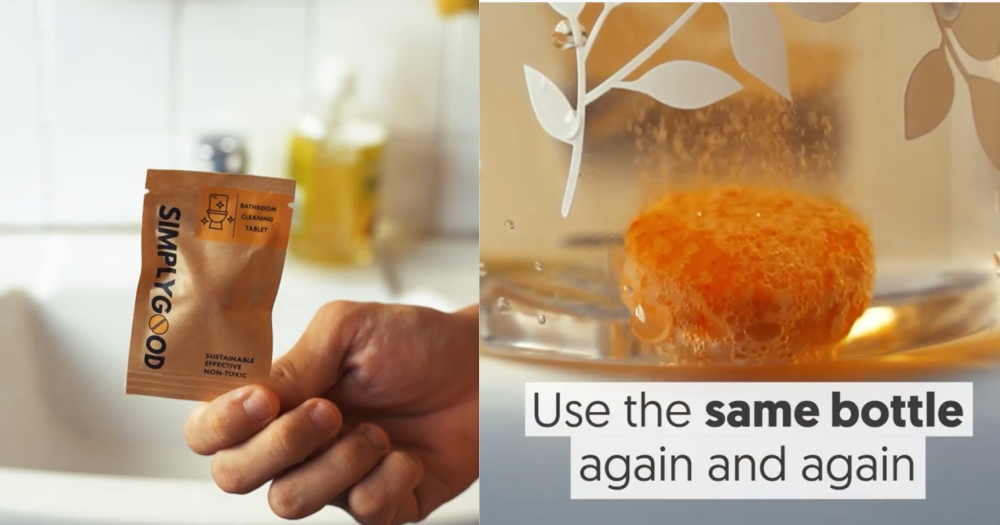 Covid-19 pandemic has seized the minds of most people with its health and economic impacts.
Another concern that some, especially the environmental conscious folks, might have is the huge amount of plastic waste generated during this period.
Two young Singaporeans, Jeremy Lee, 27, and Clewyn Puah, 26, have successfully pitched the idea of making dehydrated cleaning tablets to OCBC Bank and emerged as one of the five recipients of the OCBC Cares Environment Fund this year.
Addressing plastic waste in cleaning products
The global outbreak has led to the increased usage of cleaning products, such as soaps and household detergents, to limit the spread of the virus.
According to the Ellen MacArthur Foundation, a bottle of cleaner is typically made up of 90 per cent water and less than 10 per cent of actual valuable ingredients.
Most cleaning products are largely packaged in single-use plastic containers, which contributes to an increase in plastic waste.
According to the National Environment Agency (NEA), domestic and trade premises generated about 73,000 tonnes of waste in April 2020 alone. This is 11 per cent more than the 66,000 tonnes generated in March 2020.
Team SimplyGood, led by Lee and Puah, aims to tackle this waste problem by producing dehydrated cleaning tablets, which are dissolved in water to create a cleaning liquid.
Here how the tablets work:
In this way, the team hopes to reduce the amount of packaging waste produced as the bottles can be reused.
On top of saving plastic waste, the reduced volume, weight and shipping associated with the cleaning product can also help to lower carbon emissions.
Team SimplyGood has developed some prototypes of the detergents which have been successfully tested, and launched for sale on their website.
Currently, three dehydrated all-purpose cleaning solution tablets cost S$14.99 on their website and can provide 1.5 litres of cleaning liquid in total, when dissolved.
According to OCBC, the funding received from the bank will "support work to improve product formulation and diversification into specific cleaning detergents used in households".
Applications for the fund will stop this year
Since the bank's launch of the environment fund in 2017, the OCBC Cares Environment Fund has provided S$270,000 in financial support to implement 15 ground-up projects, over the past few years.
Other initiatives include planting trees and supporting community efforts to reduce carbon emissions.
However, the financial institution announced that it will stop calling for applications for the environment fund from this year, as the bank is exploring other ways of addressing climate change issues.
According to Koh Ching Ching, OCBC Bank's Head of Group Brand and Communications, the bank will continue to address climate change issues:
"Our #OCBCCares Programme has always focused on providing targeted help to address gaps. So, in the same spirit – now that there is sufficient impetus to fund ground-up projects – OCBC will be moving on from supporting community projects. Instead, we will explore how our #OCBCCares Environment Fund can provide sustainable and strategic support upstream, to help mitigate pressing climate change issues such as rising sea levels and increasing temperature."