Skip to product information
src="products/5_f64cb305-ebc8-4cec-9a76-4cf191ff35c5.png" width="100%" height="100%" alt="" >

src="products/1_d9f1f606-6e3b-4123-bbe4-537458255483.png" width="100%" height="100%" alt="" >

src="products/2_379ba95b-9bb0-4f01-8113-62ea905eb4ab.png" width="100%" height="100%" alt="" >

src="products/3_1970a83d-60c4-4f23-b34a-4cf23b7d6db4.png" width="100%" height="100%" alt="" >

src="products/4_e24d40a7-0ae3-49bd-95a9-d28824ab5ddd.png" width="100%" height="100%" alt="" >

src="products/5_0db4a59b-01e8-411e-a3c8-cd01134bd47e.png" width="100%" height="100%" alt="" >
Regular price
$140.00 SGD
Sale price
$99.00 SGD
Unit price
per
Sale
Sold out
---
FREE SHIPPING on orders over $99
View full details
Overview

Introducing SimplyGood's first-ever 1-Year Supply Bundle!  Everything you need to keep your home clean for a year at a ULTRA-AFFORDABLE price.  Combat rising costs, keep your home sparkling clean and eco-safe. 

This bundle consists of 10x Multi Purpose Cleaning Refills, 10x Bathroom Cleaning Refills, 10x Window & Glass Refills, 10x Hand Soap Cleaning Refills, and 2x Eco Cleaning Cloth (Set of 3).

Cleaning Tablets:

Each packet of cleaning tablet creates 500ml of cleaning solution, and each hand soap tablet creates 250ml of hand soap foaming solution. With our tablet refills, all you need is one bottle forever.

✔ Reduce Single-Use Plastic bottles

✔ 300x lighter & 200x smaller (Reduces carbon footprint)

✔ Natural, Safe & Non-toxic - No Ammonia, Chlorine, EDTA, and Parabens added

Multi-Purpose Cleaning Tablet (Scent: Lemon Guava):

Cut through grease, spills, and sticky messes easily with our hardworking, all-purpose cleaner. Application Areas: Counter, tile, stone, wood, stove, basically any surfaces.

Bathroom Cleaning Tablet (Scent: Mandarin Orange):

Soap scum and toothpaste grime are no match for our non-toxic and mighty cleaning tablets. Application Areas: Tub, tile, sink, porcelain.

Window & Glass Cleaning Tablet (Scent: Fresh Mint):

Watch as fingerprints and dust disappear from your windows and mirrors without a streak. Application Areas: Glass, Mirror, Windows.

Foaming Hand Soap Tablet (Scent: Eucalyptus & Mint):

Transforms into a foamy lather and washes away dirt and grime.

Eco Cleaning Cloth (Set of 3):

SimplyGood's Eco Cleaning Cloth is good for your home, and our planet. It is not only reusable, but 100% compostable too. It's absorbent and durable, perfect for cleaning any surface stains and spills.

✔ 30% cotton, 70% cellulose, and 100% eco-friendly

✔ 1 SimplyGood's Eco Cleaning Cloth = 15 rolls of paper towels

✔ Incredibly soft, absorbent and durable

✔ No petrochemicals, and 100% plastic free

✔ Eco friendly, and affordable alternative

To get started, all you have to do is to dampen the cloth with water, twist it, and start cleaning! Once done, run it under water and leave it out to dry.
Ingredients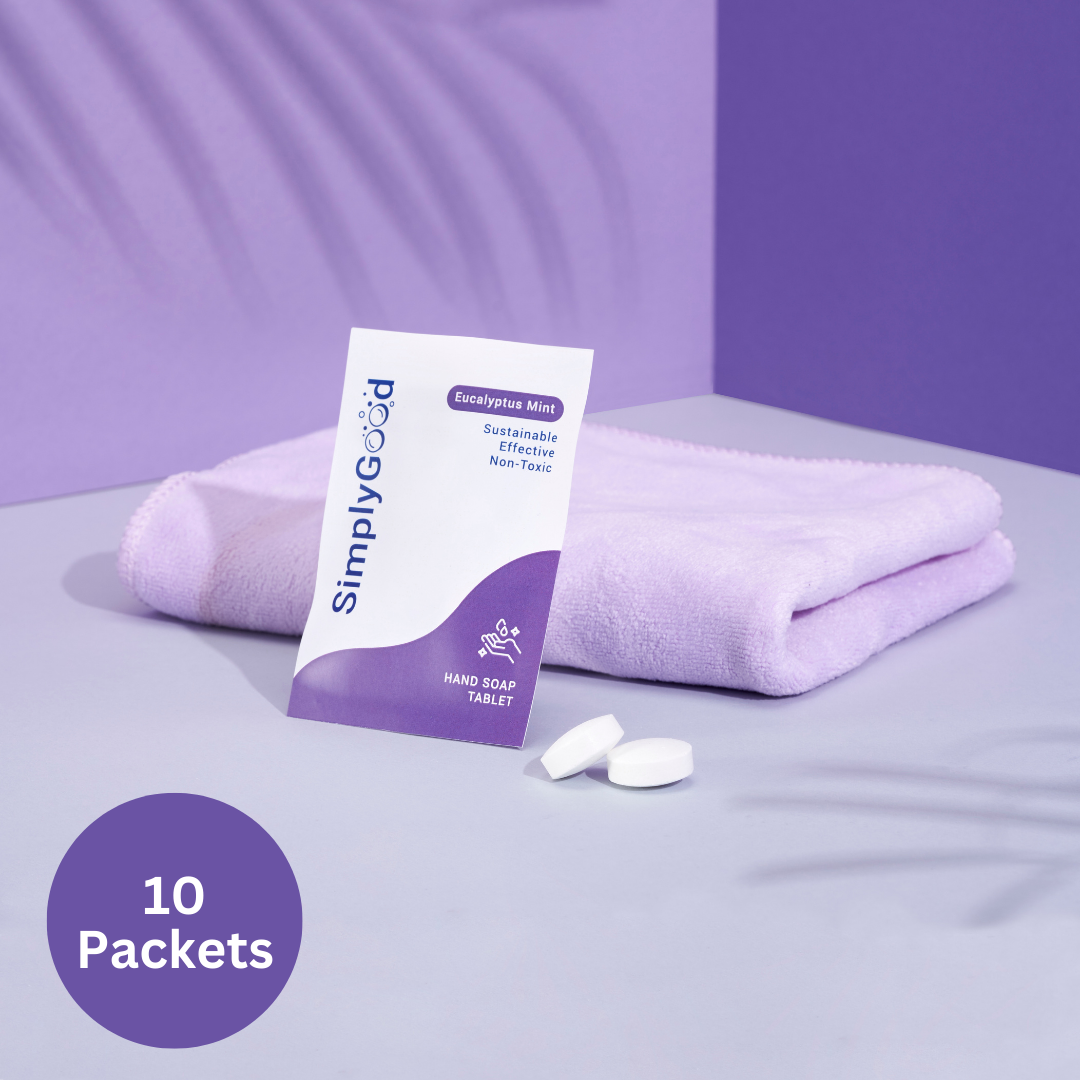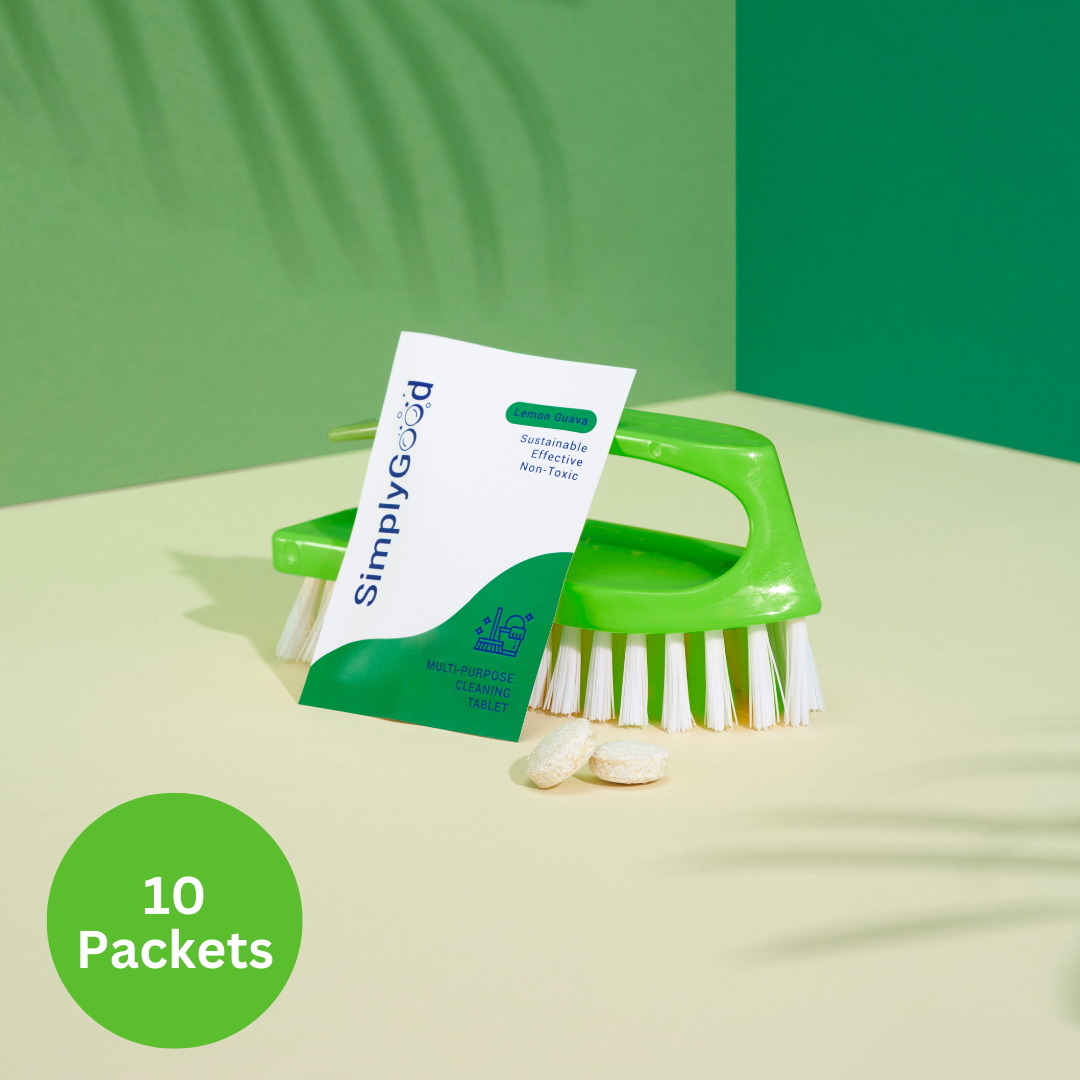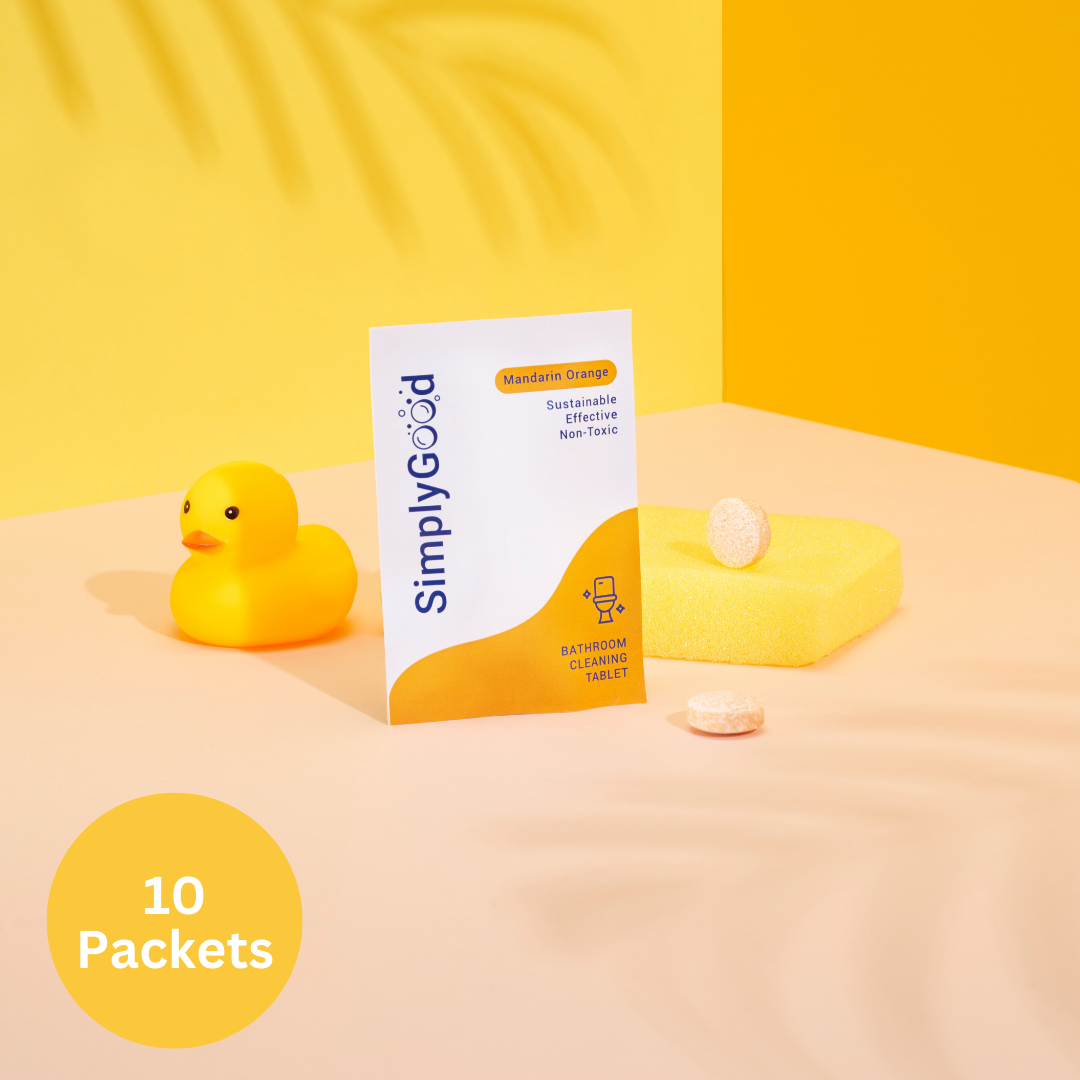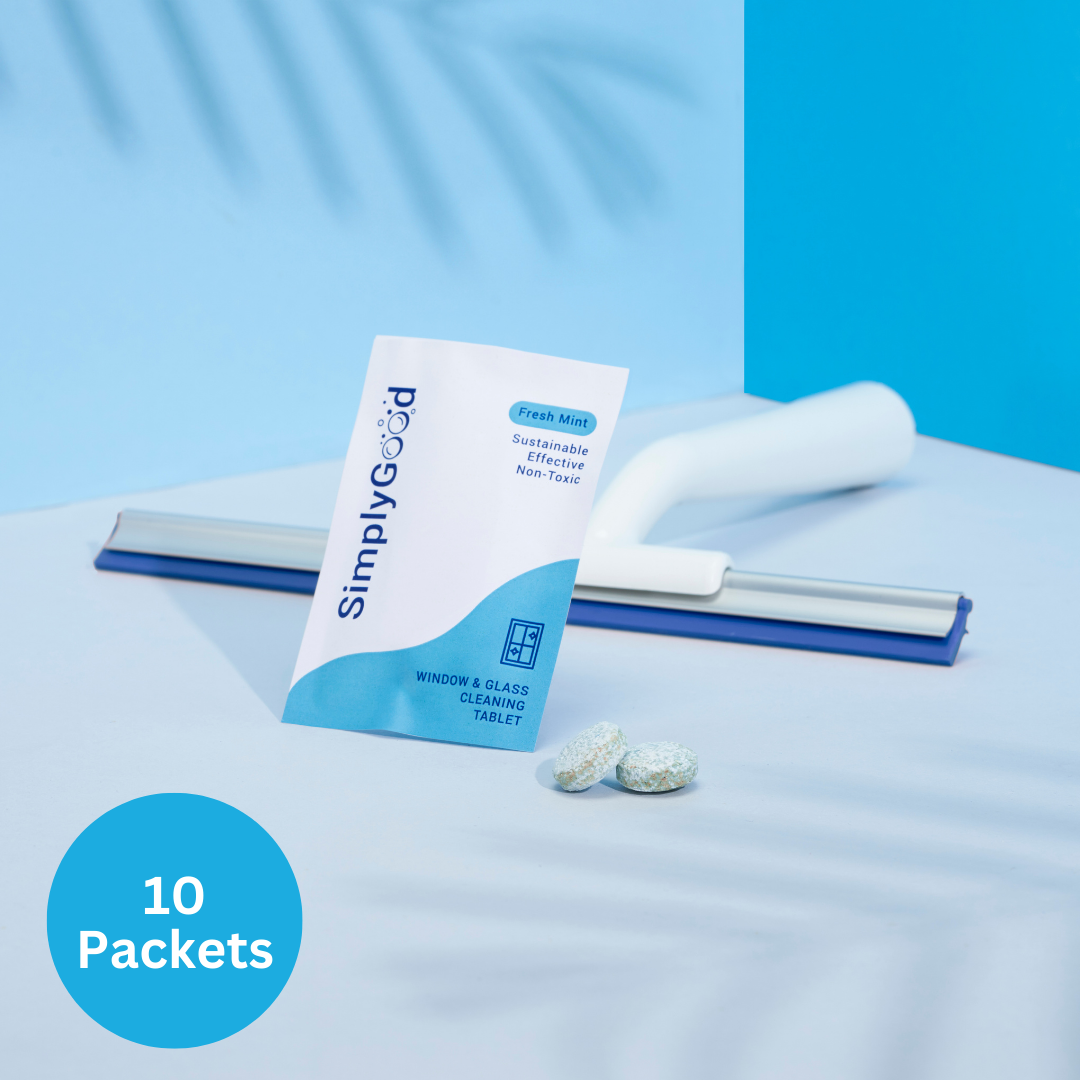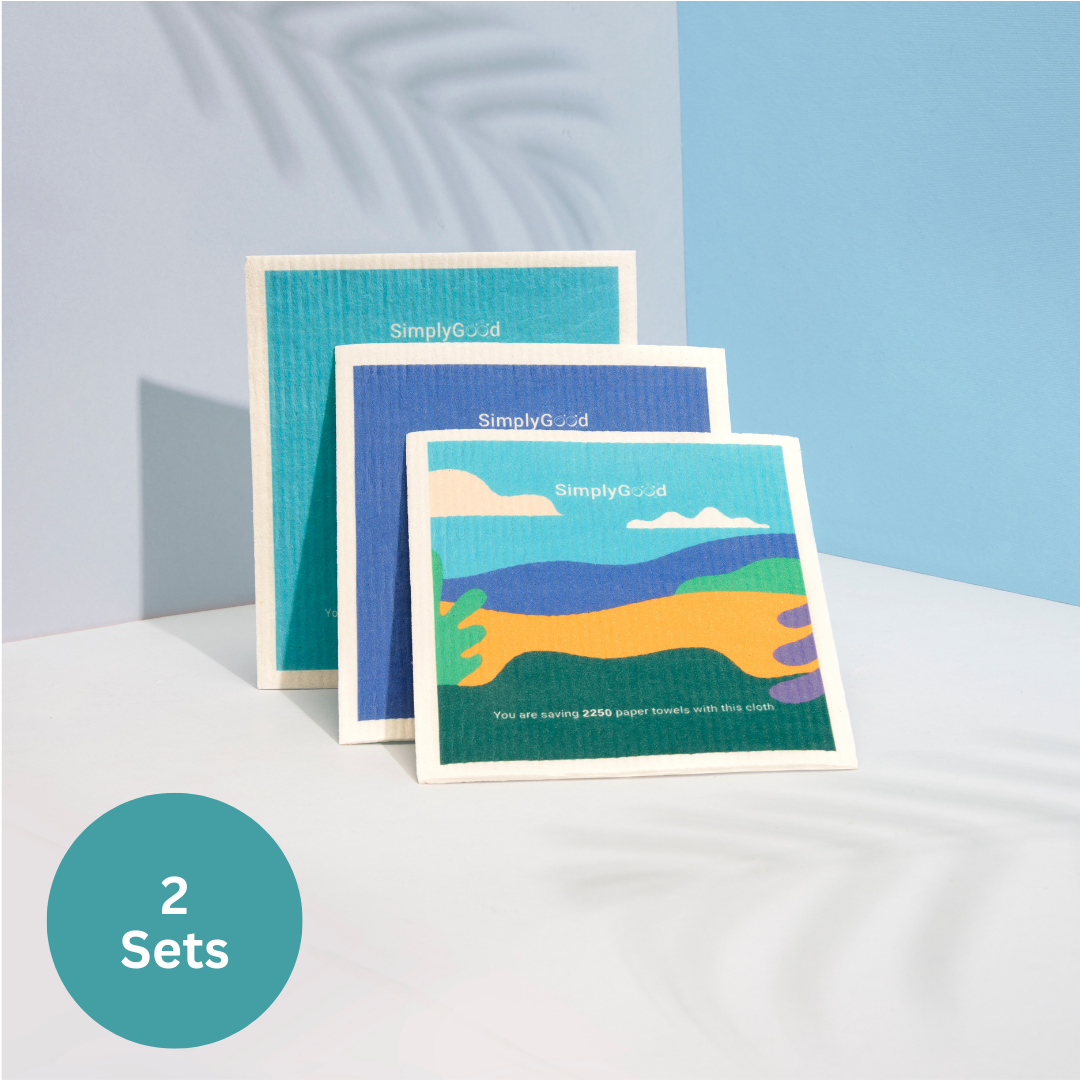 100% plant-based natural ingredients

Scientifically-proven performance
Loyalty Rewards

Enjoy rewards when you purchase or refer friends.

Find out more